Tuesday, February 21st, 2:00 pm – 3:30 pm
Hau2, Hallesches Ufer 34, 10 963 Berlin,
Five queer film professionals present a 10-minute talk around Queer Visions. Creating that vision from existing realities, from experiences on film sets, in pitching meetings, writers rooms, auditions or creating that program for your festival audience? How do these visions or utopias look, are they achievable or are we just kidding ourselves? Let us explore the possibilities of change in the TEDDY Talents Talks. 
Moderator: Djamilia Grandits
Speakers: Jennifer Reeder, Babatunde Apalowo, Gök Aykel, Lío Mehiel, Corrie Chen
Mandatory booking here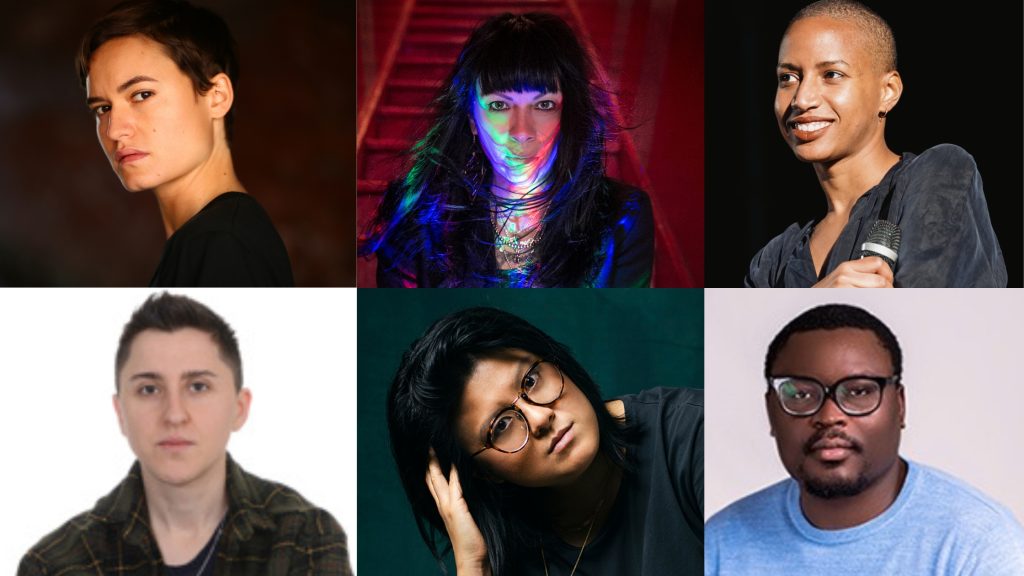 Moderatorin
Djamila Grandits
Djamila Grandits is a Vienna based cultural worker, curator and film programmer. As part of CineCollective she's responsible for the artistic direction and management of Kaleidoskop Film und Freiluft. She is part of the selection committee of DOK Leipzig. Programming for frameout – digital summer screenings and tricky women | tricky realities. Jury at sixpackfilm and member of the non-fiction commission of Zürcher Filmstiftung. Works as moderator and host of various panels, events and interviews. Djamila cares about entanglements and the exploration of collective spaces. She is inquisitive about the intersection and deconstruction of theoretical concepts, artistic-, political- as well as activist forms and expressions.
Speakers
Jennifer Reeder
Jennifer Reeder was recently named by Bong Joon Ho as a filmmaker to watch in the 2020s. She constructs personal fiction films about relationships, trauma, and coping that borrow from a range of forms including after-school specials and amateur music videos. These films have shown at festivals and museums around the world, including Sundance, Berlin, SXSW, and The Whitney Biennial.
Babatunde Apalowo
Babatunde Apalowo is a Nigerian film director and screenwriter based in the UK. He won the Homevida competition sponsored by the United Nations and his short film "A Place of Happiness" has screened at several international film festivals. In 2022, he won the AMVCA for Best Editor and was nominated for Achievement in Screenwriting at the African Movie Academy Awards. His debut feature film is "All the Colours of the World Are Between Black and White."
Gök Akyel
Gök Akyel is a transfeminist film activist from Turkey. He is the director of Pink Life QueerFest which is the first and only queer film festival in Turkey since 2011 and also chair of the board of Pink Life LGBTI+ Solidarity Association which is also the first and only trans self-organization in Turkey. Gök is also concentrating on creating queer films as a producer and screenwriter. Gök was invited to sit on the jury of the Teddy Award of the Berlinale in 2021.
Lío Mehiel
Lío Mehiel is a Puerto Rican and Greek actor, filmmaker, and artist. Their work explores the inherent contradiction of the trans experience — simultaneously rooted in the body while also transcending beyond it. Lío's first short DISFORIA premiered at Outfest 2018. Their mixed-media project PHANTOM FEEL received international acclaim by The Art Newspaper, Dazed, and was featured on a Manhattan billboard as part of Pussy Riot's public art exhibition. Lío is a co-founder of Voyeur Productions.
Corrie Chen
Corrie Chen is an award-winning filmmaker and a highly sought after television director. Her work ranges from comedy to drama, fiction to documentary, and has screened extensively at academy-accredited film festivals around the world. Born in Taiwan, Corrie is naturally drawn to stories that explore the themes of identity and belonging. An alumni of Berlinale Talents, her directing credits include the landmark 4-part miniseries New Gold Mountain for which she won best direction at Australian Director's guild awards, and the award winning digital series Homecoming queens. Her new 4-part miniseries Bad Behaviour is screening in competition at the 2023 Berlinale.  In 2020, she was named one of the Asian-Australian Leadership Summit's 40 Under 40 Most Influential Asian-Australians.
You can find an overview and schedule of all our talks here.